Natural Gas Generator Installation Testimonials
---
August 17, 2012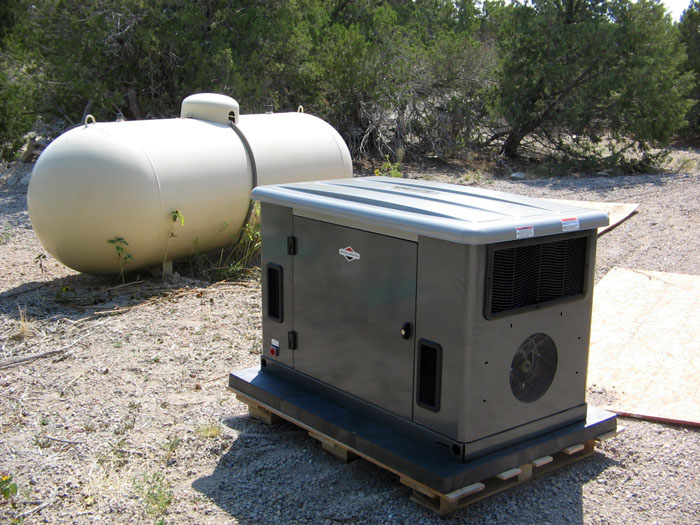 The 20 kW arrived today. Enclosed a picture. Perfect. Thanks for all the information and also for efficient order and delivery. Just outstanding.
Thanks Brian,
Jim C.
Pueblo, CO
---
August 31, 2011
"We needed a high output generator.  Our house is over 6000Sq Feet and had two 5 ton A/C's and a smaller 1 ton.  We received quotes from several companies including the company which put in the generator at our hold house.  BSA was amongst the lowest priced quotes and one of the first companies to visit our house and get a quote back to us in a timely manner.  We also investigated BSA and spoke to several clients who had used them for generators.  The operation went as smoothly as one could have hoped.  BSA was professional from beginning to end.  The showed up on time, met the schedule, and handled every end of the operation from plumbing, electric, gas, installation, permits, and anything else that was needed.  Their workers were polite, clean, and professional as well as their subcontractors.  I would highly recommend this company for any type of generator work."
LF – Plantation, Florida
---
March 30, 2011
"BSA provided real value in our generator selection process. The competition wasn't interested in spending the time to help us size it correctly. Brian carefully educated us on our options and was prompt in getting us a quote. We appreciated the prompt and professional installation process as well.
If you are in the market for a generator you are defintely in good hands with BSA."
Michael – West Palm Beach
---
August 25, 2010
Brian,
I wanted to thank you for a job well done. Steve did a fantastic and neat job on my generator install. I also appreciate that your rough estimate was almost dead on with what the cost turned out to be.
I will definitely recommend you to anybody I know that needs to do electrical work or is interested in a generator installation.
-Lyle
Davie, FL
---
August 13, 2010
Hi Brian:
Thanks for sending me the invoice and for processing the order. Just so you know, the main reason I searched you out for this GE product is because as a contractor myself I know not to buy a big ticket item that has high technical considerations from a hardware/lumber supply store like Home Depot. Calling them to ask a product specific question results in having to contact GE to get an answer. I prefer dealing with a dealer that specializes in the product I'm buying so if there's any problem or question before, during or after the installation I know I can get it answered from the person I bought it from.
Thanks for your help with this product.
Dave R
---
March 23, 2009
Hello Brian,
Sorry this is so late, but I did want to take the time to thank you for the great job you and your team did in installing our generator. Aside from a small delay in working with the City to obtain necessary permits, etc. the project moved along at a good pace and came in right on budget. We're hoping that the upcoming hurricane season will be quiet, but are confident that we will have power to continue our operations should we end up in the path of a storm.
Again, thanks for the great job.
Theresa H. Lowe, Operations Director
Aging and Disability Resource Center of Broward County
Sunrise, FL
---
November 4, 2008
Dear Brian,
I'd like to express how pleased I am with the job you (BSA Enterprises) did at my home in Hollywood. Professionalism was shown beginning with the initial consultation and site inspection for a generator. This professionalism continued with your valuable recommendation and scheduling of the other contractors when I decided to install a gas dryer and two gas water heaters. Your own BSA employees were also very courteous and clean, making no mess and completing their tasks rapidly. I would recommend anyone interested in purchasing and installing a standby generator to contact BSA Enterprises.
Rick C.
Hollywood, FL
---
August 5, 2008
Dear Brian:
I am writing to thank you for the great job you did completing the proper installation and permitting of my Briggs and Stratton standby generator.
Your company showed up when you said they would, cleaned up after themselves and took the time to answer every question I asked.
I live in Olympia in Wellington and before working with you, hired what appeared to be a reputable company to complete the permitting process and install a Briggs and Stratton full house standby generator on my property. Instead I got someone who completely bypassed the permitting process, showing me forged documents purporting to be the sign off of a final inspection from the Village of Wellington.
When I contacted your company to have an inspection performed on the generator as installed by this criminal, you came out to see me the same day I called. You took the time to explain to me everything that was wrong with the generator. In addition to the required permits never having been pulled for the job, you explained to me that the generator was electrically overloaded and a load management system (LCC) needed to be installed. On top of that, the generator was not bolted down, and the propane tank was placed in an illegal location. You advised me to call Briggs and Stratton, which I did, and they agreed to pay your costs associated with completing this job since the first contractor had been an authorized Briggs and Stratton dealer at the time I hired him.
From the moment I met you, I felt confident that your company would make right the job someone else had done so poorly.
I only wish I had known of your company and hired you in the first place. I will refer your company to anyone who is considering installing a generator and hope that all my future dealings with Florida contractors can be as simple as my dealings were with you.
Thanks again,
Julie Gordon
Homeowner Wellington Florida
---
Sent: December 10, 2007
Subject: Recommendation Letter- long overdue
BSA has been wonderful, reliable, dependable and completed the job in the time frame that they told me it would be. Brian and Steve explained the complete process from start to finish and kept me posted on the progress. From start to finish the job took about 7-10 days. They explained what to expect should their be a power outage. I would highly recommend BSA to anyone looking for a dependable generator company.
Karen Kluge,
Florida
---
September 3, 2007
For anyone wanting to install a standby generator, we definitely recommend BSA Enterprises both for the quality of the product and the quality of the work.  Brian and Steve were a pleasure to work with throughout the whole process.  They thoroughly explained how the generator would work, kept us informed during the installation process, and advised that they would take responsibility for following-up to perform necessary routine maintenance. 
After living 18 days without power as a result of Hurricane Wilma, we believe a Briggs & Stratton generator installed by BSA Enterprises is the way to go!
Alice and Stuart Gibson
---
March 14, 2007
I would highly recommend BSA and Briggs & Stratton generators. I installed a 15K natural gas generator at my home. Brian provided the vendor for the gas pipelines and supervised the entire process. The permitting process can be a real pain in the neck and takes quite a bit of time. Brian followed up and got the job done and I could not be happier. He even helped me get a company to wrap my generator so it blends into the yard!!
Thanks Brian.
Mark P. Ryan
Customer
---
December 22, 2006
Mr. Brian Ashworth, President
B.S.A. Enterprises, Inc.
Davie, FL
"Dear Brian:
We want to express to you how pleased we are with the installation of our standby generator. As you are aware, we were very skeptical that the 15KW Briggs & Stratton unit could power everything that we wanted to have the ability to run … but it does. Not all at one time, but when you consider how many items you actually use at the same time, this unit does the job well. We had been told by others that a house our size would require at least a 35KW to 45KW generator – and the price was more than double not to mention the consumption of natural gas.
We were also very concerned about the installation, and making sure that everything would 'work' when the job was completed. The house is only four years old, and we have two "200 Amp" service panels. Of course the things we wanted to power were split about half in each panel. which meant that you had to transfer breakers and wiring between the two panels, not to mention 'pulling' new lines. (The power comes in on one side of the house, but the panels are located at the other end.) To say that we were skeptical is an understatement. but everything went very smoothly. Steve did a super job, and everything works great. During the installation he walked through the house with us to insure that everything would be powered that we wanted. The extra box with the 'brains' that Briggs & Stratton has as an option, was well worth the cost, and it is amazing to watch it work! As you know, we are able to run two of our three ale units (4 ton and a 3.5 ton), an electric water heater, the pool pump, washer and electric dryer, and still have lights & functioning outlets in all of the rooms which we use routinely. We even have some exterior lights and garage door openers. Everything that we wanted and then more, is powered. You kept asking us 'what else would you like to have use of ?' – we are amazed. The unit is surprisingly quiet, much more so than our portable  generator that we used in the past. –
It was a real pleasure to work with you and your staff throughout the entire process, from the original sales call, through permitting and completion. When we had questions, you always were there to answer them – even on the weekends. We will highly recommend you to anyone who is considering a standby generator. and feel free to use us 'as a reference.

Thank you sincerely for a job well done, which can be a rare thing here in South Florida!"
John & Sharon Nawalamc
Cc: Briggs & Stratton
---